Upcoming Events
We're looking froward to taking a few horses to Lusks Derby on Sunday which always gives the horses plenty to look at - getting a clear round is always an achievement!
Flexi Eventing @ The Meadows
We'd a great day the Flexi Eventing at The Meadows on Saturday.
Nicola and Mouse took on the dressage and were a credible 6th with 68.8%, before jumping a double clear in the 80cm. Nicola jumped another double clear in the 80cm, this time on Minnie.
Nicky had Kate and Milo out on their first time away from home. Milo jumped a double clear in the 70cm and not to be shown up by the boys, Kate did the same in the 80cm
Thank you to Dora and the team at the Meadows for a well run day.
Eventing Ireland Derby @ Tullylish
We're taking a full lorry to the derby at Tullylish - consisting of showjumps and XC obstacles. Nicky will be riding Patch, Kenny & Austin, and Nicola will be riding Splash, and Ted if we can get him squeezed in!
Results & photos to follow
Arena Eventing (incorporating the 'Moy's Got Talent' League)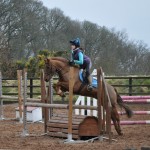 Arena Eventing is the first leg in our 'Moy's Got Talent' League and we're thoroughly looking forward to getting it kicked off in style! We have classes to suit all riders and abilities from 25cm (x-poles) to 95cm. Children can be led. Classes are £10 and any further rounds are £5 for the same combination of horse/pony and rider. The course will combine show jumps, XC and working hunter type jumps.
Look forward to seeing you there!
South Tyrone Foxhounds Hunter Trials
Looking forward to taking 4 young horses to the South Tyrone Foxhounds Hunter Trials on Saturday - Stitches (5yr old), Ted, Splash (4yr olds) and Rosie (3yr old). Vesey Lodge is always a tough and up to height course so it will ask plenty of questions! Here's hoping the weather is kind!!
I'm looking forward to a day of teaching on Sunday, after the success of my WH clinic last month. The jumps this time will be more solid and riders will be asked bigger questions! A few of my horses will be be taking part - Amber, Storm, Zebedee, Nelson and Molly - looking forward to seeing them in action!
Best Buddies Dressage is in its second week and are hoping to build on their success from the first week. Carly Douglas and Dougal were 5th last time and are hoping to improve on that result this time round. There are walk / trot, very novice and novice tests - classes to suit all. See Moy Riding School Facebook page for tests etc.
Indoor XC Lessons with Eric Smiley
Tuesday 6 - 7.30pm Laurelview Equestrian Centre
Nicola and Heidi have been having indoor XC lessons with Eric Smiley on Tuesday evenings - the pair are learning a lot and are looking forward to the next lesson. They have been jumping tricky lines, skinneys, rollers etc and are enjoying every minute - corners, water trays etc next week will make them think!
SJ Training @ Portmore Equestrian Centre
Nicky brings 2 young horses most Tuesday nights throughout the winter to do some SJ schooling at Portmore. It is great experience as the arena is big and the atmosphere relaxed.
Future Event Horse League
Heidi and Topper are both heading to do the 4 year old future event horse qualifier at Ravensdale. Topper does his dressage at 9.18am and Heidi at 10.24am.
Heading to Armagh Show on Saturday - Nicola and Heidi are making their showing debut and Topper & Storm are going to try their hand at the working hunter. Cloudy (the new addition) is doing the starter stakes WH with Carly Douglas!
All supporters very welcome - plenty of food and wine for all - lets hope the sun shines!
Pic 'n' Mix @ The Meadows
Wednesday Nights from 6.30pm
Nicky will be taking the horses to The Meadows on Wednesday evenings to show jump (subject to the weather!).
Moy Riding Club @ Moy Jumping Field
Monday Nights from 6.30pm
Nicky will be taking the young horses jumping on a Monday night from 6.30pm at the Moy Jumping Field, subject to the weather conditions. Monday 16th May will be Heidi & Lou.
Duke, Storm and Mac are going to do a one day event being held at Tyrella by East Down PC - Duke is doing the open class, Storm the 2'9 class and Mac the 2'3. All supporters welcome & there will be a picnic for all helpers!!
We're taking a few horses XC schooling to Cloncaw Equestrian Centre, Glaslough on Friday. Time and what horses are going to be confirmed.
With Desi at the wheel, Team Corr are heading to Laurelview this Saturday. Amy Whittle is riding Mac (14.2hh grey pony) for his first outting in the 70cm class, and her own pony Charlie in class 4 (85cm), while Nicky rides Roger, Storm and Topper in the over 14yr old, 85cm class. Nicola is taking Duke to do the open (1m) class.
Good Luck to everyone - all supporters welcome & results will be posted here after the event.
All our horses (riders allowing!!) will be out on St Patrick Day in The Square, Moy, for the South Tyrone Foxhounds annual cross country ride! Nicky is busy preparing the course and there will be miles of jumping to suit all abilities!
Come along and support - or if you want to see a horse you've got your eye on in action, this is the perfect opportunity!!
The ride starts at 12 noon. Hope to see you there!
South Tyrone Foxhounds are meeting at Dyan on Saturday - Duke, Fred and some of the new 4 year olds will be out.
Duke is heading to The Meadows on Saturday to do a few rounds of showjumping. Mary Corr and Abo are heading to Tattersals to a 2 day show and will be competing in the HW class.
Duke will be heading to Limavady Show on Saturday to do the working hunter classes. Also going to the show will be Mary Corr to judge the pony classes. Results and photos will be posted next week.
A full lorry of horses is leaving the yard on Saturday! Polly is going to the lightweight hunter class and also Style and Appearance. Abo will be in the heavyweight class and also the open working hunter. Fred will be jumping in the 15hh working hunter class, as well as the ridden coloured class. Heidi is doing the in hand coloured class. Duke will be jumping in the novice working hunter class. Saturday will be very busy and all support very welcome! Results and photos will be posted soon.
Heidi is making her debut in both the 3yr old filly class and also in the in-hand coloured class! All support more than welcome!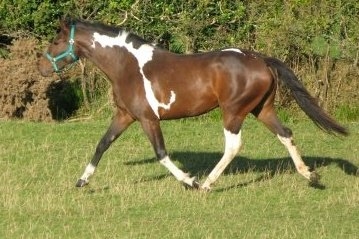 Everyone is going XC schooling on Saturday & we're going to be shooting a video of each horse which will appear on the website next week! Any spectators very welcome!
We have 2 horses heading to Balmoral next week - Abo and Alfie.
Wednesday (12th)
8.30am - Alfie (4yr old Heavyweight Hunter)
Mid morning - Abo (5yr old + Heavyweight Hunter)
Friday (14th)
8.30am - Alfie (4yr old Working Hunter)
Mid Morning - Abo (5 & 6yr old Working Hunter)
Come along to watch and cheer them on!
Equestrian Car Boot Sale is being held in the car park of Moy Riding School from 10am - 4pm on Saturday 9 May 2010.
Cars £5
Vans £10
Trailers / Lorries £15
Everyone welcome - bring your old horsey gear that doesn't fit you any more and pick up a bargain!!
Ballynahinch Charity Show
Nicky is judging the Working Hunter classes on Saturday, so unfortunately none of us can compete. However, its a super day out for spectators as the course is always fantastic and catches a few out!